Resident Assist and Staff Call Systems: Increased Safety for Patients & Staff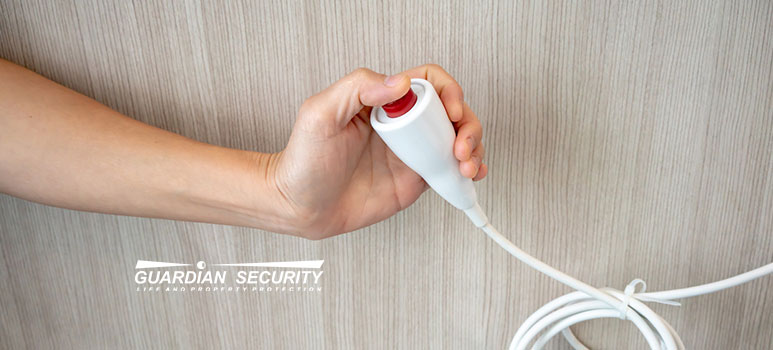 Guardian Security is proud to offer resident assist and staff call systems (also known as nurse call systems) to healthcare, nursing facility and residential care clients throughout the Northwest. Here is how it can help your facility increase safety and reduce liability. 
Resident Assist/Staff Call
Syste
ms
If you have ever been in a hospital room and seen the "nurse" button or pull station on the bed or in the restroom, then you have seen a nurse call system.
Once a nurse call button or pull station is activated, the nurses on duty receive notification of the person in need and where they are located. The notification can deploy to the nurse station via a phone/computer screen, LED sign, pagers, walkie talkies, or even a smartphone app. 
Because every call is logged in the server, we can produce reports on call metrics: how many calls come in every month, and how long it takes for staff to respond. This is an excellent way for management to stay informed on the effectiveness of its nursing staff.
Other Healthcare and Residential Applications
In other healthcare or residential applications – including hospitals, surgery centers, assisted living, independent living, skilled nursing facilities, and nursing homes – Guardian Security can install a hardwired or wireless system for:
·         Bedside nurse call
·         Bathroom and shower pull cords
·         Code Blue alerts
·         Duress/panic alerts
·         Wireless Call Pendants (neckless or wrist)
·         Pagers
·         Walkie-Talkies
·         LED Message Boards
·         Apple TV app for large display boards
·         Integrates with in-room smoke detectors
·         Integrates with key card systems
Memory Care Applications
In facilities that provide residential care to adults living with memory disorders, a resident wander protection system ("Wander Guard") may be an effective nurse call solution. The Wander Guard system is designed to automatically lock the door a memory care patient is trying to exit, while simultaneously notifying the staff about the flight attempt. The alert to staff will show them who the resident is and what exit they are attempting to leave from, so they can respond appropriately and quickly.
Nurse call systems are valuable tools for healthcare and residential care management. To discuss how your facility may benefit, contact Guardian Security for a complimentary consultation appointment.
About Guardian Security
Guardian Security is the first choice for home security in Seattle and the Pacific Northwest. We service public buildings, office buildings, warehouses, homes, schools, hotels and hospitals. Our customers have included local and national names that you know and trust.
Latest posts by Brendan Murphy
(see all)