Careers At Guardian: Integrated Solutions Sales Associate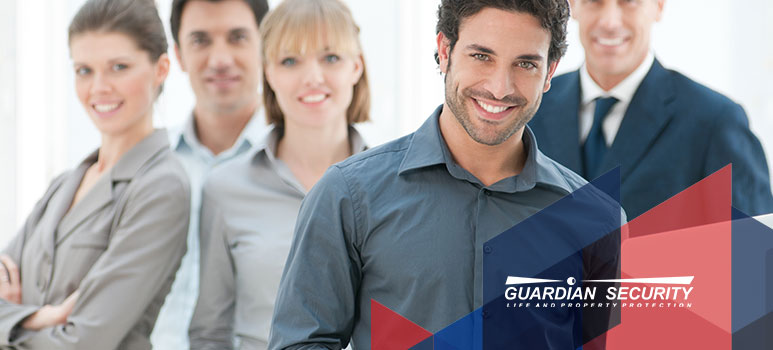 Guardian Security is hiring for the sales position on the Integrated Security Solutions team. We are Washington's leader in residential and commercial life safety solutions.
Established in 1976, Guardian specializes in comprehensive security, fire and life safety systems for installations ranging from single-family homes to major retail centers.  Our company has experienced rapid growth and needs quality applicants to fill our ranks. We believe in training and cultivating our employees to ensure they have a long and healthy career.
Job Description:
The primary objective of the Integrated Security Solutions Team sales position is to promote and market the company utilizing our Access Control, Video Security, Nurse Call core lines that we represent.  This position is responsible for selling Security Solutions to End Users, General Contractors, Electrical Contractors.   The Integrated Solutions Sales person will develop all aspects of the sales cycle and when projects are won, turn them over to Project Management.  Some of your responsibilities will include building long-term relationships with our customers, developing the WOW factor, preparing detailed proposals and estimates, building relationships, closing projects, helping with preliminary design of systems if needed and working to maintain a long-term partnerships with our customers. As a new employee, you will be on a ninety-day probation period to ensure your success.
Solid customer communication with their Security, Facilities, IT, C-level staff is critical.  Maintain your Leads in WeOpp and update regularly.  Your internal customers are Operations, Installation, Service and Accounting departments of which you will be engaging with frequently and are your internal customers.
Responsibilities:
To hunt for new business opportunities in Access Control, IP Video security solutions, Higher Ed, Nursing/Assist, Governmental market verticals looking for new, add-on and upgrade opportunities.

Focus on large commercial and enterprise businesses in the above listed vertical markets.

Provide Power Point presentations reflecting our product lines and quality services we offer.

Conduct product demonstrations on IP CCTV, Access Control, Nurse Call to customers staff at any level to show equipment quality, features and benefits of our products lines.

Conducting site walks to evaluate all aspects of equipment and labor for the final installation.

Responsible for preparing and delivering quality and complete proposals to customers for review and consideration and close sales opportunities.

Responsible for fully understanding the scope of work, any unique aspects of a project, etc, to accurately prepare proposals for the best possible customer experience.

Periodically call and visit Architects, Electricals, Engineering firms to build relationships.

Participate in authorized associations to promote the company and our products and services.

On a regular basis visit any assigned customers to pursue new business, review ongoing work and to thank them for their business and seek add-on sales opportunities.

Provide complete and accurate sales status reports for sales meetings.

Maintain communication with Project Manager to address any questions about your projects.

Other Duties as assigned.
Relationships and Roles:  
Internal / External Cooperation:
Build trust, value others, communicate effectively, drive execution, foster innovation, focus on the   customer, collaborate with others, solve problems creatively and demonstrate high integrity.

Maintain professional internal and external relationships that meet company core values

Demonstrates the ability to carry on a business conversations with key decision making personnel with end-users, contractors and government agencies.

Have a complete understanding of pricing strategies, start up scopes, etc..   

Demonstrate ability to interact and cooperate with all company employees.   

Proactively establish and maintain effective working team relationships with all support departments.   

Adheres to all company policies, procedures and business ethics codes and ensures that they are communicated and implemented within the team.   

Participates and contributes to the development of educational programs offered to clients, prospects and company employees.

Maintain contact with all customers and local authority's having jurisdiction in the market area to ensure high levels of customer satisfaction.   
Job Qualifications:
5+ years of experience in business to business selling, marketing and business development.   

Experience with strong networking hardware and infrastructure knowledge needed.

Strong skills in video security and integrated solutions from analog to IP solutions.

Experience with access control systems, Edge and networking solutions

Knowledge in software Integrations with MS AD, SQL lite and Pro, etc.

Strong understanding of construction market dynamics and requirements.   

Enterprise software solutions and large complex organizations.   

Willingness to occasionally travel and work with a team of professionals.   

Proven ability to achieve assigned objectives.

Excellent out of the box thinking is needed to break free from traditional limitations

Strong communication skills
About Guardian Security
Guardian Security is Washington's leader in residential and commercial life safety solutions. Established in 1976, Guardian specializes in comprehensive security, fire and life safety systems for installations ranging from single-family homes to major retail centers.
To apply for this amazing career, please visit the Careers page of our website and upload your cover and resume, or email it to: hr@guardiansecurity.com.
Latest posts by Brendan Murphy
(see all)