8 Reasons To Think About Landscaping & Security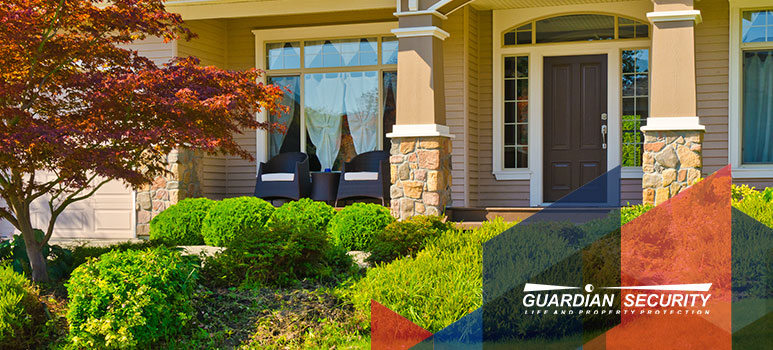 When we think of home security, we most often think of home security alarm systems. While alarm systems are always a great number one choice in home protection, there is something more you can do to help protect your property—consider the landscaping.
Surprisingly few people think of landscaping as a security feature, and because of this it very often becomes a security hazard. Here's what you can do to make your landscaping an asset in home protection.
Tall Trees and Bushes Provide Beauty and Cover
A lush landscape filled with beautiful trees makes a property very attractive, but it can also provide excellent cover to thieves and intruders. A tall tree next to a second story window is like a ladder, and even has leaves to work as camouflage, for example. Consider spacing trees and cutting back anything located against the home structure.
The Visibility Factor Plays an Important Role in Attracting or Deterring Crime
We all value our privacy, but if you are using a lush landscape as a property border you are doing your home security a disservice. Remember, criminals want to avoid detection so the very thing that gives YOU privacy gives the criminal the perfect environment to carry out crime.
Lighting Attracts Mosquitos, Not Burglars
Landscape lighting not only adds beauty to your yard; it also adds security. Again, criminals want to carry out their objective successfully so a significant amount of lighting can be a real deterrent. In addition to pathway lighting, consider motion activated floodlighting that cover places such as doors and windows.
Keeping the Yard Freshly Mowed Tells Everyone You Are Home
An unkempt lawn may tell an intruder that you are frequently away from home or currently on vacation. If you are going to be away from home or tied up in work, schedule a visit from landscape professionals to keep things in order.
Fences Provide Security, Right?
It may sound counter intuitive, but fencing can actually be a problem to your security unless you have the home and property line additionally secured with some of the many options in home protection. Fences and walls can provide the cover intruders need to breach your home.
Criminals Take Prominent Home Security Warnings Seriously
Studies show that the vast majority of criminals will pass by a home that is clearly protected by home security alarm systems. Break out the lawn signs and window decals. They work.
About Guardian Security
If you are thinking about how to integrate home security alarm systems into your life, call Guardian Security today. Guardian offers advanced solutions for homes and businesses, specializing in smart home technologies.

Latest posts by Konrad Koscis
(see all)