Twas The Night Before Christmas, A Security Story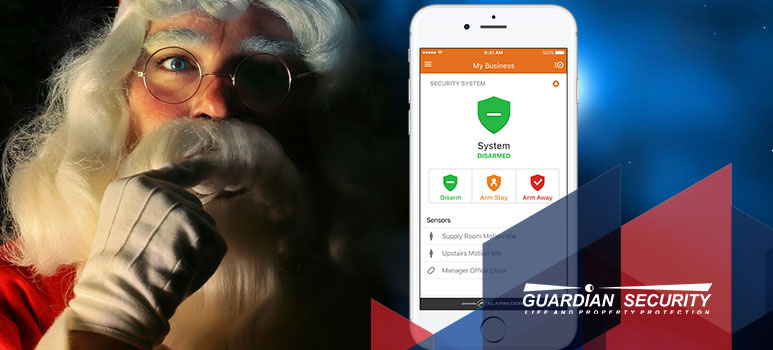 "Security At Christmas"

by Konrad Kocsis
Bellingham & Yakima Branch Operations Manager
Guardian Security Systems, Inc.
---
Twas the night before Christmas and all through the site,
Not a motion was tripping, every wire out of sight.
The permit was hung by the panel with pride,
Knowing the inspector would pass it in no time.
The last one out was ready to go,
"Ready To Arm The Toy Store", the keypad would show.
"Pound" and "Away" the security was on,
Guardian Security is best when you're gone!
Later that night, and out in the back,
A prowler was lurking and ready to attack!
He broke a window and ran for the loot,
So inconspicuously dressed in an old Scrooge suit.
The glass break alarm was detected as the snow began to fall,
A signal to the monitoring station would be the next call.
With prompt response, the police were on their way.
Christmas Eve was silent, but Santa was in his sleigh!
The greedy little scrooge was caught up with his toys
Santa to the rescue for all the girls and boys!
The Police caught the scrooge, and Santa saved the day,
Our customers we happy – Guardian paved the way!
Meanwhile back in the office, the technicians did wait,
News of a job well done would be their fate!
When all of a sudden there came such a laughter,
The managers with their bonuses, and eggnog in their bladder.
Working together, and cheering with all our might,
Wishing a Merry Christmas to all, and to all a good night.
---
By Konrad Kocsis
2017
Happy Holidays From Your Friends at Guardian Security!
The entire Guardian team wants to thank you for your business and to wish you and yours a very merry and festive Holiday Season.  Providing our customers with excellent service is something we strive to do all year round at Guardian and we look forward to serving all your security needs in 2018.

Latest posts by Konrad Koscis
(see all)