Using Guardian Security Online Services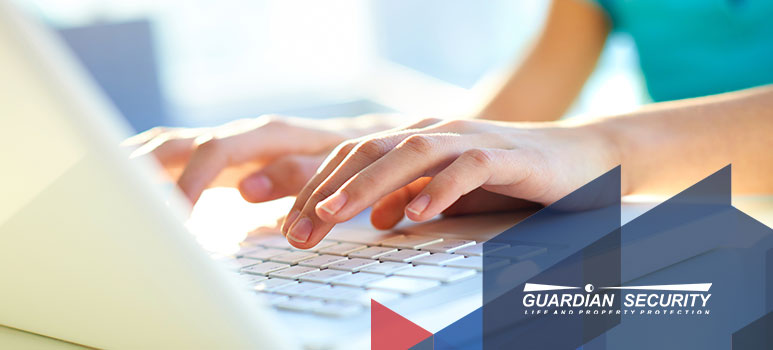 In this age of seemingly boundless mobility, everyone likes to find ways to do things easily and on the go. Anything that makes our tasks more convenient is welcome, and that includes more convenient ways to manage our security systems. That's why Guardian Security offers online services to quickly pay monthly monitoring fees online, rather than mailing a check or paying an invoice over the phone – and, to easily submit service tickets whenever your system needs maintenance.
Pay Your Monthly Monitoring Bill 
Here is how customers can pay their monthly monitoring bill through their MyAccount portal:
· Set up your account via New Account Setup. Enter the required information. From there, you will receive an activation email.
· Return to the MyAccount portal; enter your email and password.
· From the options on the dashboard, choose Invoice>Pay an Invoice.
· To select the invoice you want to pay, click Pay Select.
· Edit or add a method of payment by selecting Method of Payment.
· Choose Add Credit Card or Add Bank to select your payment source.
· Continue to follow the prompts to complete your payment.
Manage Your Service Tickets
Guardian also offers an easier way to manage your service tickets online. While in your MyAccount portal, use the Service Tickets tab to:
· View open tickets
· View closed tickets
· Add a service ticket
To add a service ticket, simply fill out the required information and click Submit.
We want security customers in the Pacific Northwest to be able to manage their systems more conveniently, so there will be more time for the important parts of life. For questions on Guardian Security online services, please don't hesitate to contact us.
About Guardian Security
Guardian Security is the first choice for security in the Pacific Northwest for public buildings, office buildings, warehouses, homes, schools, hotels and hospitals. Our customers have included local and national names that you know and trust.

Latest posts by Jennifer Treumer
(see all)