3 Key Industries That Benefit From Commercial Fire Alarm Systems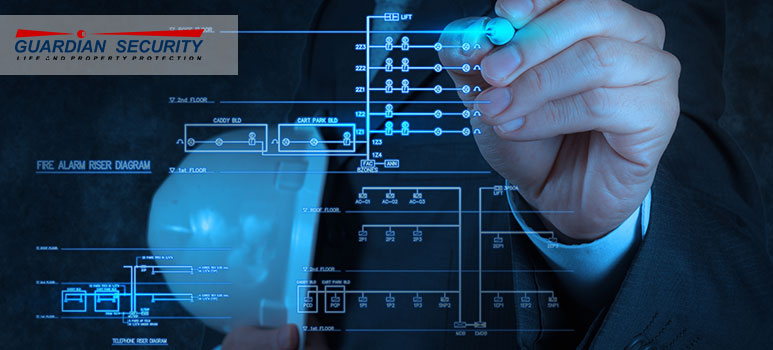 Latest posts by Bob Vezzani
(see all)
The mission to save life and protect property never changes, but methods through which these inspired tasks are achieved are continually evolving due to the advancement of new technologies. For more than 40 years, Guardian Security has been installing and monitoring commercial Fire Alarm Systems, and we have embraced new technologies that have allowed us to exceed client expectations throughout Washington State.
We go further than our competition and seek to understand unique the needs of property owners in different industries. This article highlights three industries that have benefited from advancement in fire technology.
Commercial Fire Alarm Systems in Hotels & Hospitality
Hotels require highly reliable, flexible and intelligent fire safety system to protect the facility. More importantly, protecting guests while not disturbing them with unnecessary alarms or system malfunctions is crucial. Guardian Security offers the Siemens Cerberus ™ PRO 250- and 500- point fire alarm panels along with a broad line of innovative fire detectors to ensure hotels meet code.
Through Siemens, Guardian offers a No False Alarm Guarantee that ensures false alarms are not the result of detector malfunction and guests are never unnecessarily disturbed.
High-rise buildings
Unlike traditional low-rise buildings, high –rise buildings present unique challenges when it comes to fire safety. They pose difficulty of saving and evacuation activities, and various ways through which fire spreads. Moreover, high-rise building creates a cumulative effect, thus requiring a great number of people to evacuate the building. As a result, high-rise building has garnered significant attention regarding fire safety over the years.
The Siemens FireFinder® XLSV is UL-listed for convenience paging and background music providing everyday comfort but able to be commandeered to provide emergency voice evacuation. The Siemens Cerberus ™ DMS provides state-of the-art building and life safety management stations giving a detailed view of networked systems. The system can interfact with IP vieo cameras to provide real-time, visual event confirmation.
Data centers
Today we are living in a data-driven world that relies heavily on communication networks and infrastructure to function. For data centers, avoiding downtime or interruption to operations is extremely important. Guardian Security provides, through our product partner Siemens, an industry leading portfolio to keep data centers safe and up and running. FireFinder® XLS, an extremely powerful detection system has a broad portfolio of early warning and high sensitive detection. Multiple VESDA detectors can be connected to the FireFinder XLS for comprehensive detection coverage of highly sensitive areas. By continuously sampling the air, VESDA detectors detect smoke in its incipient stages. This allows for early detection and warning from the fire panel.
Guardian Security Systems, Inc. is one of the largest locally-owned and operated fire and security alarm contractors in the Puget Sound area with an experienced and dedicated staff of technicians, designers, and administrative professionals. Contact us today to schedule an on-site evaluation of your fire alarm system.