4 New Reasons to Check Out Total Connect 2.0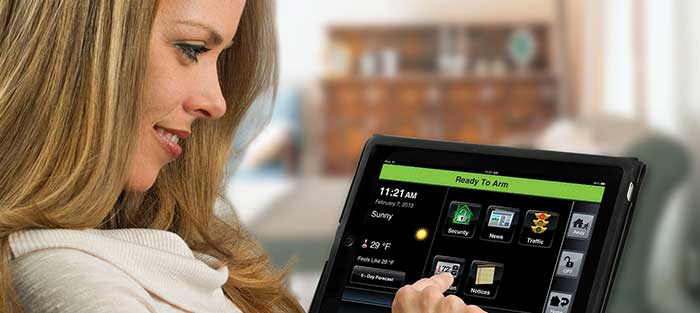 If you have not already, you will definitely want to check out the new enhancements to Total Connect 2.0. The award winning Total Connect platform revolutionized the market when it came out, allowing users to remotely connect to their security and automation systems from their internet connected devices. The platform allowed the user to manage such things as lighting, locks, and enabling or disabling alarms. It had so many versatile applications that the technology was quickly adopted across all sectors, including the residential and commercial sectors.
What is Total Connect?
For those new to the technology, Total Connect is a platform that allows users of smart and internet connected devices to access their security and automation systems. From the device, users can control vital processes such as arming or disarming their alarm system, controlling the lighting and temperature of the home or office, managing access, and tracking vehicles and assets using GPS technologies, among many other important applications. In addition to providing additional security, the platform allows users to save considerable time and money.
Introducing Total Connect 2.0 Enhancements
Now, all of the advantages have just been made better with the most recent updates released by Honeywell. Total Connect has already proven to be a valuable asset in the home and business, and changed the way we approach and integrate security and automation in our lives. The new enhancements allow users to more fully integrate and leverage the technology for increased security, improved productivity and energy efficiency, and tighter asset management.
These are the top Total Connect 2.0 enhancements:
New Interface—Total Connect 2.0 comes with a dynamic new interface that is much cleaner and sleeker, and much more intuitive. The design is common, and familiar across all platforms, making it much more quickly managed. The platform also comes in four languages, including English, Spanish, French, and Portuguese.
Smart Scene Wizards—The new Smart Scene Wizards help users through the process of setting up and configuration of Total Connect 2.0 Smart Scenes. The Smart Scenes allow the user to configure "scenes" or a particular set of applications that are triggered by time, circumstance, or desire. These unique scenes can be set for maximum comfort, energy efficiency, convenience, or to enhance safety.
Smart Auto-Syncing—Total Connect 2.0 now has auto syncing with the LYNX Touch 7000, 5200, and 5100 control systems. The user does not have to worry about updates as they happen automatically and within seconds.
Touch ID from Apple—With Touch ID from Apple, Touch enabled iOS device users can log into their system using their fingerprint as their passcode. The safe and highly secure system provides immediate access to their system.
Each one of the enhancements extends the reach and usability of the Total Connect 2.0 system, and together they make the system even more important in an increasingly mobile lifestyle. If you have any questions about the new Total Connect 2.0 features or how they can add value to your life, give us a call today.

Latest posts by Matt Smith (see all)